How to put lubricant in the cups?
by Kelsey
(Texas)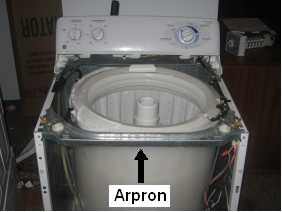 Apron
I have a GE washer model number: wwse5240g1ww
It makes a squeaking noise during the wash and your website and several others tell me to put lubricant in the cups of the suspension rods. My question in where are they and how do I get to them? I appreciate your help!


Answer
Hi Kelsey,
This is a HydroWave model and I will not say that the cups on the suspension rods don't need lubricant but I think you more than likely have the sagging apron issue. What will happen on these models the apron will bend down to the point that the bottom of the motor bracket will hit the bottom of the washer when it is full of water. I wrote about this problem on this page
GE HydoWave Washer Noisy
To answer your question you have to remove the front and the top. You should see four rods that hold the tub up. The four rods hang in a cup, which you should see at the top. Lift up on the rods and put grease in each cup.
Thank you,
Shawn/administrator