GE Front loader makes loud noise at power up
by Jon Chaney
(Jacksonville, NC)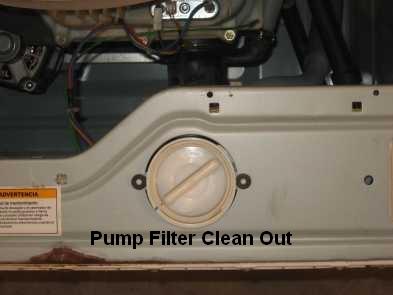 Pump Clean Out
My GE front loader makes a loud noise like something is caught in a pump or something. I have no experience with front loaders but i am do understand how to work on old toploaders any help is appreciated it is a GE WCVH6800J it is about 2 yrs old and has had problem prior with the control panel and the local company had it for about 6 weeks so this why i want to learn to fix it myself to get it done correctly and quickly.
Thanks
Jon


Answer
Hi Jon,
There are a few things that happen right at power up and one is the pump will run so there is a chance that something is hung in the pump. There is a clean out for the pump that you can remove and try to clean out the pump.
GE Front Load Washer Pump
The door also locks which makes one to three loud clicks and this is normal.
The dispenser motor also runs but it makes very little noise. If it is making a lot of noise replace it. Remove the top and you should be able to tell if it is making the noise or not. You can place it into the service mode and run the dispenser test mode to see if the dispenser is making the noise but it shouldn't be necessary. See this page for details
GE Front Load Washer Service Mode
Thank you,
Shawn/administrator