Paddle on ice maker freezing
by Bobby Keisler
(Louisville, KY USA)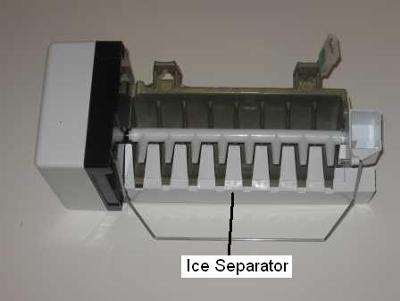 I have a GE Refrigerator #DSS25PFMD. Ice is accumulating on the top of the paddle, which I guess controls when it makes/does not make ice. About 1x/day, I have to take out the ice bucket and remove the ice that's developed.


Is there anything I can do to avoid getting a new icemaker? If I need an ice maker, is this something I can get and fix myself (easy, difficult or moderate skill needed)?
Thanks,
Bobby
Answer
Hi Bobby,
There is one thing you can try before replacing the icemaker or the water valve.
On the front of the icemaker there will be a plastic stationary piece with fingers turned into the icemaker. This is called the ice separator (see picture). Remove the ice separator and put and bead of RTV silicone along the front edge of the icemaker to block water from coming over the edge. Then reinstall the separator and wipe all the RTV off that gets squeezed out from under the separator.
Note that if the icemaker is overflowing this will not help however sometimes water will just flow into the icemaker too fast and a drop will come out of that center cube mold. If this is the case the RTV will repair the problem. If the icemaker is actually overflowing then the water valve is more than likely the problem.
Note that the picture above is not the same as yours but the ice separator will look the same.
Thank you,
Shawn/administrator