Intermittent Cooling - AMANA SQD26VW
by Chris
(Wilmette)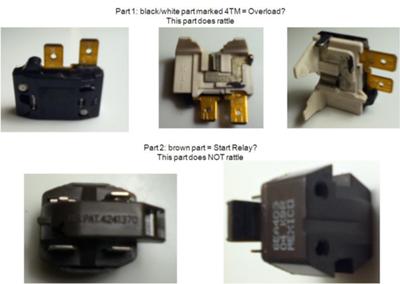 Hello,

Thanks for your time!

At 7 pm on Saturday night, I noticed that ice was melting in the freezer and it seemed that the condenser was not running. The refrigerator setting was 4.5 (of 1-7). The freezer setting was 4.5 (of 1-7. I unplugged the refrigerator for about 1 hour then plugged it back in. The condenser kicked right on, the ice maker started working. I went to bed at 11 pm and the refrigerator appeared to working normally.

At 7 am on Sunday morning I noticed that the ice was melting in the freezer again and milk was not completely cold. Beginning at 11 am, I started to follow your post on "Refrigerator Not Cooling" (http://www.appliance-repair-it.com/refrigerator-not-cooling.html).

I did not have a defrost problem and the fans were running. This is a side-by-side unit so wasn't an issue with the top-freezer leaking. Next, I slid out the condenser tray and the condenser and condensing coils were EXTREMELY dusty/dirty. Also the condenser was extremely hot to the touch. I could only touch it for 1-2 seconds. I cleaned everything thoroughly with brushes and a vacuum. I put everything back together, and plugged the refrigerator back in at 1 pm. The condenser kicked right on, the ice maker started working. I turned the refrigerator and freezer settings down to 6 (of 1-7). By 4 pm, the freezer was about 6 degrees and the refrigerator was about 40 degrees. By 6 pm, the freezer was about 0 degrees and the refrigerator was about 34 degrees.

At 8 pm I notice the condenser
was not working again, the temperature in the freezer was about 34 degrees and the refrigerator was about 45 degrees. So I went back to the "Refrigerator Not Cooling" post. I unplugged the refrigerator and removed the start relay plug and overload. The condenser again was extremely hot to the touch. I could only touch it for 1-2 seconds. I removed and shook the start relay plug and it did NOT rattle. I also removed and shook the overload and it did rattle. See attached pictures to confirm I have these parts correct. I put everything back together again and the condenser kicked right on. It's now 10 pm and freezer is -2 degrees and the refrigerator is 38 degrees.
My guess is the compressor is bad, but would love to hear your thoughts. Thanks again!!
Chris
Answer
Hi Chris,
I believe you have a bad compressor although I cannot be 100% sure.
It sounds like the compressor is overheating and cutting off. If the fan next to the compressor is running and the start relay is ok then the compressor is bad. The only thing is that the rattle test is only roughly 97% accurate. So at this point you might want to try a new start relay and overload just in case and if that doesn't work then the compressor is bad.
There are other things that will cause the compressor not to run but I am basing this on the fact that the compressor is hot when the refrigerator is not cooling.
Thank you,
Shawn/administrator