How to install complete door assembly on GE Advantium 120 Micorwave Oven SC 1001 FS 01?
by ChefHotChop
(Miramar, FL)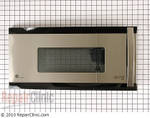 Please how do I remove the exisitng door assembly on the GE Advantium 120 Microwave Oven Model #
SCA 1001 FSS 01?
The exisitng one's door handle broke and the plastic strip/trim running all the way across the bottom of the door asembly beneath the silver door facia trim is cracked. So I decided to replace the entire complete door assembly and replace it with a brand new one, problem is I can't see any screws to undo to remove the exisitng one. How do I remove the old and install the new? Any clear instruction manual available with diagrams demonstrating this?


Answer
Hi ChefHotChop,
There are no screws to take off it is on two pins. The first thing you have to do is remove the front gribble that goes all the way across the top front. Then open the door all the way and lift straight up. When you lift it up it should clear the pins and come right off. I hope this helps!
Thank you,
Shawn/administrator