GE LSS25XSTB SS, Ice melts in the freezer, yet veggies in the fridge freeze
by Lee
(Fort Collins, CO)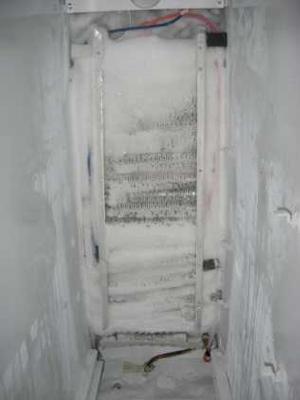 I ran the Evaporator Fan test (The fan inside the freezer) (located here: GE Refrigerator Fan Motor Diagnostics ) and it pointed to my evaporator fan as being the problem.


I left the doors (fridge and freezer) open for approximately five minutes and the evaporator fan DID NOT come on. I measured voltage as described in the article and got @ 13.5 volts both times.
My main concern is this... the fan did come on after a considerable amount of time (15 minutes or more) with the doors open. However, it only ran for a few minutes. As a matter of fact, this is how it has acted for the last few months...my ice melts and veggie/meats drawers freeze in a vicious cycle over and over. Does this still sound like a Fan issue? I mean, the fan DOES come on from time to time but does not come on when the fridge should be in the liner protection mode as described in the above article.
Thanks,
Lee
Answer
Hi Lee,
The problem you are experiencing is caused by poor airflow, which sounds like the fan isn't running as much as it should.
The fact that it runs at all indicates to me that this is a main board problem. However the fact that you are getting voltage to the motor but it will not run indicates that it is a fan motor problem.
GE side-by-side refrigerators are known for bad fan motors causing the main board to fail. This doesn't happen often (I have only seen it twice in 10 years in the field) but can happen and it sounds like what may have happened in your case.
Thank you,
Shawn/administrator