Dishwasher Leaves White Film On Dishes
by Shawn/admin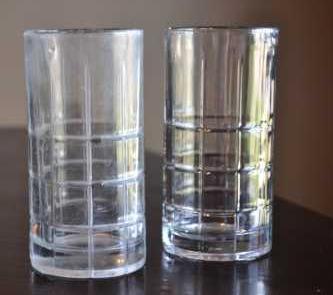 A White Film Glass Vs A Clear Glass
If your dishwasher leaves white film on your dishes then it could be because of new government regulations on dishwasher detergent. With this new regulation detergent companies are no longer allowed to put phosphate in the detergent. This causes a white film to form on glassware and other items and can even form inside the dishwasher itself.


Phosphates were in dishwasher detergents to sequester minerals in water and improve wash performance. When phosphates are removed from the detergent mineral deposits will be left behind in the form of a white film.
The easiest way to remove the white film is to run all of your glassware and dishware through a cycle using citrus acid. GE has got a citric acid kit that will take care of this problem the part number is
WD35X151
The kit comes with two packets of the citric acid, which is enough for two cycles. This process will have to be repeated several times a year until the detergent companies come up with a solution.
Using rinse agent will help minimize a repeat build up of film.
All phosphate free detergent has this problem but some more than others. If anyone finds a detergent seems to leave the least white film please leave us a comment telling what brand you are using.
Thank you,
Shawn/administrator
Return From Dishwasher Leaves White Film On Dishes
The picture at the top of this page was given to me by

Fresh nest design

...Ideas for your home